To simply answer the question of what is a resident doctor, a resident doctor is someone who has recently graduated from medical school and is completing their post-graduate training. In comparison, an attending physician is a board-certified physician who has already completed their required residency program. Resident doctors are supervised by attending physicians.
When a patient receives care from a resident doctor, they are also receiving care from the attending physician who is supervising the resident. The patient will benefit from the knowledge of both the resident and the attending physician. 
This article goes into detail about what defines an attending physician and a resident doctor, as well as offers a breakdown of the other care professionals that make up a hospital's care team.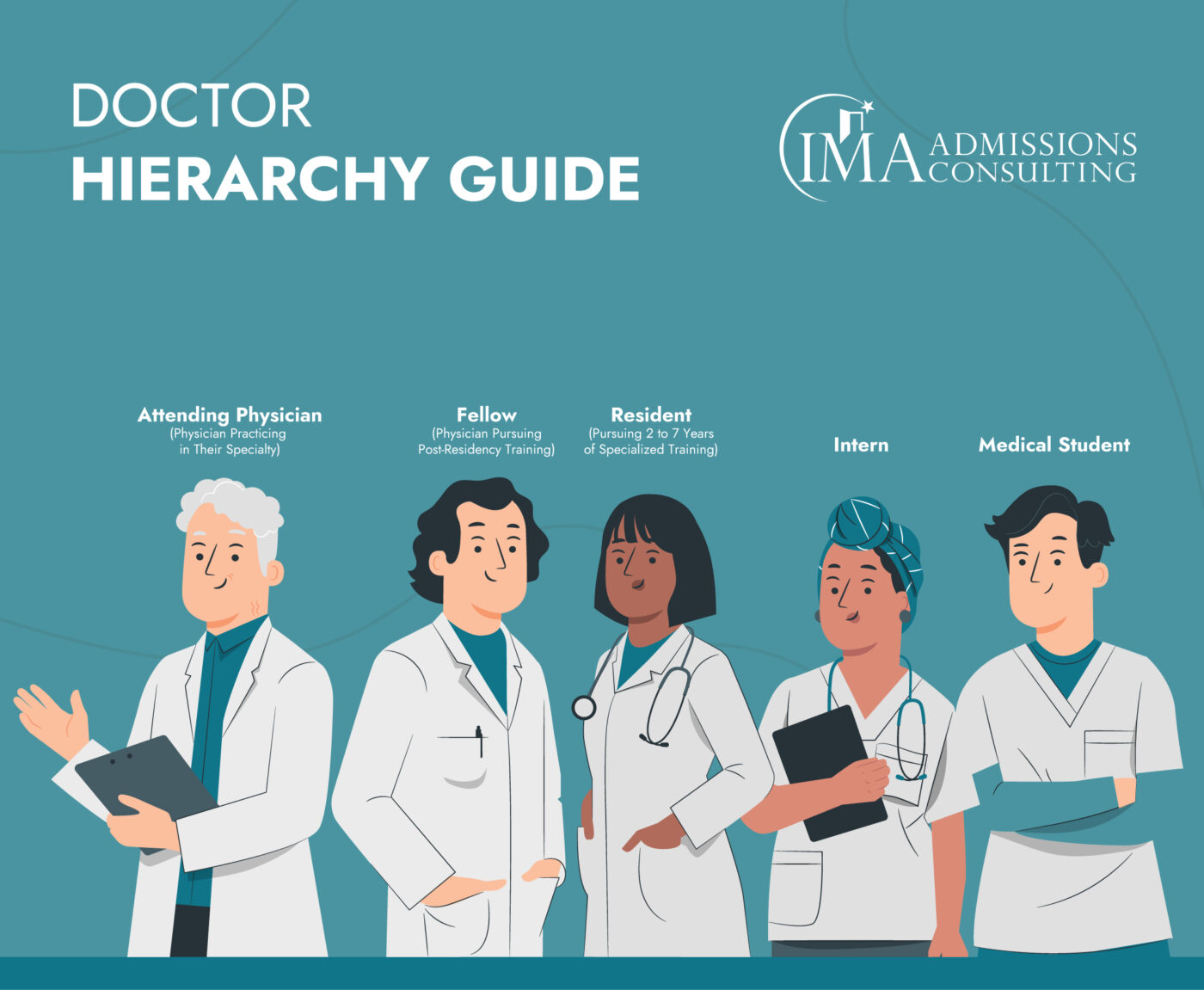 Doctors and Levels of Seniority
There are various financial aspects to consider when taking the MCAT, from the cost of registering to travel expenses. Later in this guide, we will discuss the various ways to minimize the cost involved with taking the MCAT exam—utilizing low cost prep materials and the AAMC fee assistance program. Not all of these cost-minimizing avenues are available to all students and for the average student, the exam is a significant expense that they must budget for. As you plan your med school application, keep in mind that you will have to spend more than time and effort to prepare for your upcoming MCAT exam.
Doctors and Levels of Seniority
To develop an understanding of what a resident and attending physician are, it is important to understand the different levels of physicians and their key differences.
In a United States hospital setting, this is the typical hierarchy of doctors.
Attending Physician:

A doctor/physician who has completed post-graduate training
Fellow:

A doctor who is pursuing optional additional training after completing their residency program
Resident:

A doctor who has completed their first year of post-graduate training
Intern:

Med school graduates who are first-year residents
To become an intern, you must complete your formal medical school education and then embark on further training at a teaching hospital. For medical students in the United States, you can take part in the NRMP (National Resident Matching Program) to find the best residency program for you.
Attending physicians are medical doctors who have completed all necessary residency training. They are board-certified and/or eligible to practice independently in their specialty. 
An attending physician often supervises fellows, resident doctors, and medical students. Attending physicians may also be medical professors at an affiliated school. They have the final responsibility for all patient care even if a fellow or resident doctor provides the patient care. Attending physicians may or may not have legal liability, depending on the circumstances. 
These physicians are considered to be experts in their designated field of medicine or surgery. They are also referred to as attendings, staff physicians, or supervising physicians. 
Depending on the field of medicine, the path from being a medical student to becoming an attending physician may take 7 or more years. Some medical specialties can take 14 years to complete all needed undergrad and graduate studies plus the required post-grad training. 
If you feel you may need more guidance about what medical specialty is right for you, International Medical Aid's residency admissions consulting services can help. Our consultants work one-on-one with students to help them find the best path for them.
A fellow is a medical professional who has completed their residency and chooses to pursue further specialized training. A fellowship is optional but is required if you want to practice within certain medical subspecialties. 
An example of this would be a general surgeon who wants to practice pediatric neurosurgery or cardiothoracic surgery. 
There are fellowships for many medical fields, including:
Cardiology

Neurology

Obstetrics/Gynecology

Ophthalmology

Orthopedics
Medical school graduates enter into a residency program at a clinic, doctor's office, or hospital.
The goal of a residency program is to continue training in a specialized field of medicine. Most medical residencies last between 2 to 3 years for fields such as family medicine and upwards of 7 years for surgery fields. 
First-year residents are often referred to as interns. After completing their first year of residency, they are referred to as residents or resident doctors. Resident doctors provide direct care to patients under the supervision of senior residents or attending physicians. 
Residency Specializations
Resident doctors can choose different specialties to train in after graduating from medical school. Some of these specialties include:
Emergency Medicine

General Surgery

Family Medicine

Pediatrics

Anesthesiology

Diagnostic Radiology
Chief Residents
Chief residents are chosen to lead a group of residents. These residents are elevated to a level that puts them senior to all of the other residents, but junior to the program's management. 
Duties of chief residents can vary but often include patient care, training, mentoring, carrying out select administrative duties, and advocating for team members. Chief residents are chosen by hospital leadership during their residency training program. 
Med students are those who have completed their undergraduate studies and have been accepted into a university's medical program upon meeting all necessary criteria such as passing the MCAT and AAMC Core Competencies.
Medical students spend the first 2 years of their med program primarily in a classroom setting. The last 2 years of med school require students to spend a lot of time in a hospital or other clinic-based setting. 
After completing medical school, students will either graduate with a DO or MD degree. For more information about the differences between MDs and DOs, check out this article. Only after graduating, can they be referred to as physicians, even though they have yet to complete their residency training.
How to Identify Who's a Fellow vs Resident vs Attending
Sometimes you can identify where a doctor ranks in hospital hierarchy based on the length of their lab coat. The shortest white coats are worn by medical students with residents having slightly longer coats and attendings having the longest lab coats.
However, a lab coat is not always an indicator of someone's rank as a physician as other medical professionals such as phlebotomists and nurses wear lab coats. Today, the majority of healthcare workers wear scrubs instead of lab coats. 
If you are in doubt about someone's title, it is best to refer to their ID badge or simply ask them.
Those who are training to become physicians receive different titles as they progress in their education and climb the ranks. They will start out as medical students, then interns, residents, and fellows before becoming attending physicians. From when they enroll in medical school to obtaining their board certification can take anywhere from 7 to 14 years (sometimes more). 
Are you an aspiring physician but you're unsure how to start the process of applying to medical schools? IMA can help. We offer a variety of great resources for medical students and those who have yet to apply to med school from our admissions consulting to pre-med shadowing study abroad programs and the plethora of helpful medical school guides.
What is a resident doctor?
A resident doctor is an individual who has completed their medical school education and is currently receiving their residency training. The term resident is only used to refer to those who have already completed the first year of their residency. 
Do resident doctors receive pay?
Yes, most residents earn a modest salary and receive benefits such as health and dental insurance
How do the salaries of residents and attendings compare?
Can residents prescribe medication?
Yes, resident doctors can prescribe medication to patients under their care.