Physical Therapy Internships
International Medical Aid (IMA) is a not-for-profit organization that provides healthcare volunteer and internship programs for undergraduate students, graduate students, residents, and practitioners in the areas that need it the most: East Africa, South America and the Caribbean. In providing urgently needed health care assistance to the people in these regions, we help participants gain valuable exposure to disciplines such as medicine, dentistry, nursing, mental health, public health and physical therapy through an ethics-based approach to care. Our programs also allow volunteers the opportunity to immerse themselves in the beauty and culture of our exotic destinations through unique adventure programs led by experienced and trusted tour guides. Founded at Johns Hopkins University on the principles of integrity, respect, commitment, and imagination, IMA provides a safe and mutually beneficial experience where students can make a meaningful contribution to disadvantaged populations throughout the world.
Program Philosophy
International Medical Aid (IMA) allows individuals who are motivated to practice physical therapy or chiropractors to explore the profession in an international setting. This once-in-a-lifetime mentorship by dedicated Physical Therapy or Chiropractic staff creates hands-on programs that accommodate the knowledge and backgrounds of each volunteer. Volunteers get to work in a variety of environments extending from public hospitals to private practices based on interests and skill sets. Through the use of public health educational programs, IMA endeavors to improve the health of individuals in need of care. We take a holistic approach to care, collaborating with local leaders to develop ethical and sustainable community-led initiatives that address the root causes of disease and illness.
Unlike many healthcare volunteer programs, IMA is a not-for-profit organization that reinvests into all of the communities in which we operate. While some programs merely transport participants to their hospital placements and offer little oversight or guidance, we provide a structured environment with multiple sources of local and U.S. based support. IMA oversees every aspect of our volunteers' overseas experience, including extensive training on safety and infection control procedure.
What's Included
24/7 U.S. and Local Country Support
IMA recognizes the importance of a strong support network in a foreign country thousands of miles from home. We provide a single U.S. point of contact for families at home, while onsite, each volunteer is matched with a program coordinator and a mentor. The coordinator typically lives in the volunteer residence and is responsible for smooth day-to-day operations, while the mentor works with volunteers in a professional capacity.
Orientation and Training
IMA ensures that its volunteers are fully informed and prepared before beginning their overseas experience. As such, we offer two types of orientation programs: one led by a program coordinator regarding the local area, and the other geared toward the work environment, including hospital operations, safety protocols, sanitation requirements, and specific terminology.
Gated Housing with 24/7 Security
IMA's top concern is keeping our volunteers safe during their stay. As such, we thoroughly vet all properties we purchase or lease to ensure that they are in the towns' safest areas, typically with easy access to major roads, U.S. embassies, and work assignments. We offer volunteers modern dormitory-style accommodations with air conditioning, maid service, and laundry service. Our full-time security team is available to help with off-site trip planning and escorts.
Travel, Accident and Health Insurance
International Medical Aid provides each intern with $1,000,000 of top-rated travel insurance that will cover most medical and dental expenses, medical evacuation, lost luggage costs, and trip interruption coverage. This insurance is underwritten by Sirius International which holds an "A" rating by A.M. Best. A Sample Policy may be viewed on the carrier's website. This insurance is among the strongest and most comprehensive coverage offered by any student travel organization in the United States.
Placement Related Transportation
IMA provides volunteers with shared, daily roundtrip transportation to placement sites in addition to arrival/departure airport transfers. Safe, reliable transportation is also available for leisure and personal trips at reasonable rates to ensure the safety and enjoyment of all volunteers.
Chef-Prepared Meals
IMA employs chefs from nearby resorts to prepare nutritious local cuisine that volunteers will find both healthy and delicious. We also offer the comforts of home cooking through occasional American fare. We provide three full meals a day and can accommodate special nutritional needs.
Hospital Fees
Required fees to utilize hospital facilities – often additional with other companies – are all included in the program fee. Our contracts also provide participants with priority access to specific areas of the hospital in which they have an interest in practicing.
Communications
We offer unlimited Wi-Fi access from the volunteer residences and local cell phones for use during the program.
Program Debriefing
Following the conclusion of each placement, volunteers will be asked to discuss their experiences with the program's U.S.-based staff. This feedback on likes, dislikes, and suggestions is used as a basis for further improvements to the program.
Candidates
Physical Therapy Students, Pre-Chiropractic/Chiropractic Students, Chiropractors and Physical Therapists
IMA Adventure Consulting
IMA offers volunteers the chance to enhance their overseas experience by participating in a planned adventure retreat in their chosen country. IMA Safaris allows volunteers to explore and immerse themselves in the beauty and culture of our unique destinations. Through established relationships with trusted guides, hotels and travel organizations across the world, IMA simplifies travel arrangements for volunteers, while providing relatives back home a single point of contact for added peace of mind. Some of the places visited throughout Africa, South America and the Caribbean include world renowned sites such as the Serengeti National Park, Mount Kilimanjaro, Victoria Falls, the Galápagos Islands, Machu Picchu, and the Haitian National History Park.
Frequently Asked Questions
PROGRAM FEATURES
Immersive Hospital Shadowing
Ethical, Not-For-Profit Program Model
24/7 Support from Expert Mentors
Access to All Specialty Departments
Travel & Accident Insurance
Global Health Education Programs
Recognized Credential
Graduate School Admissions Support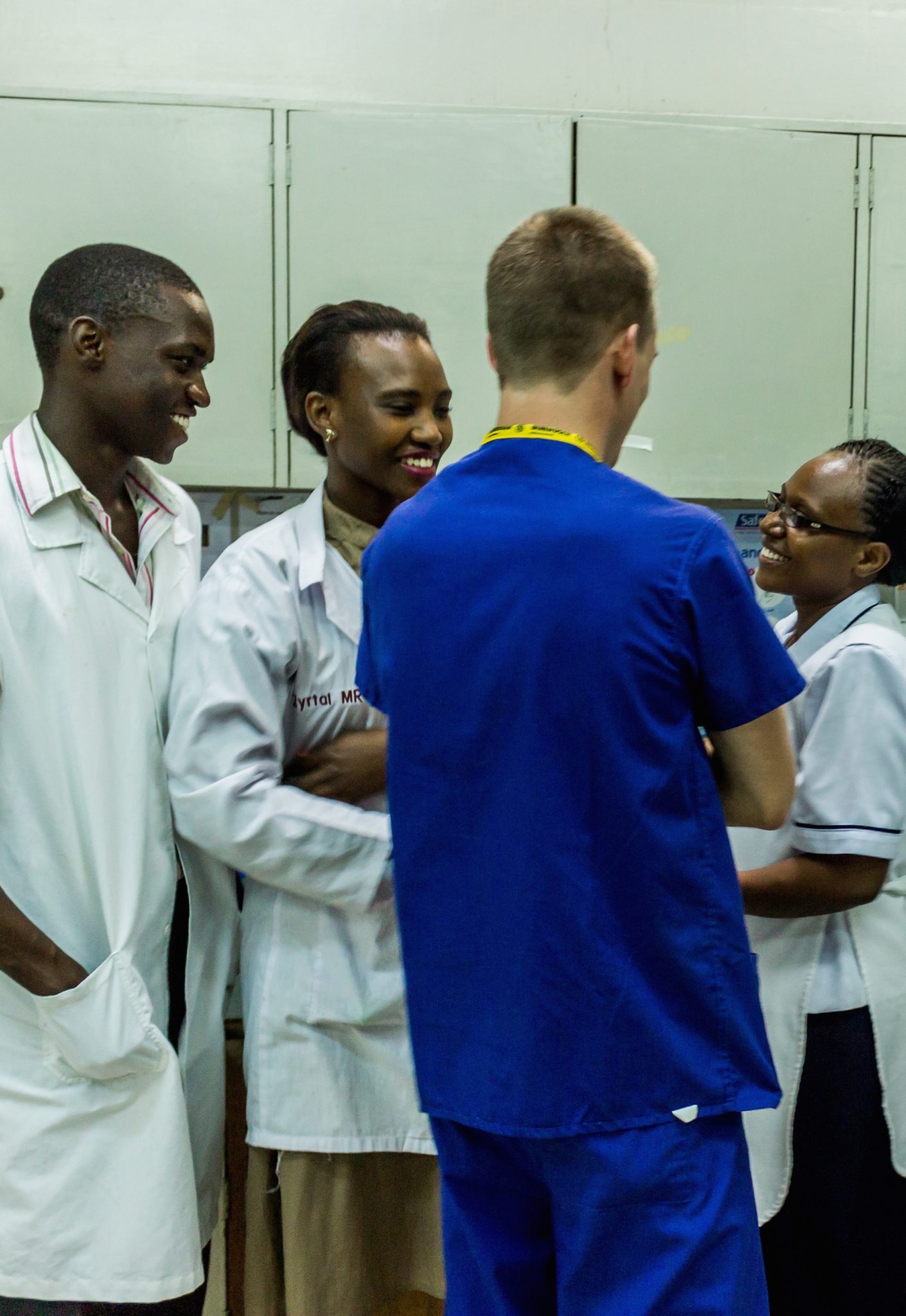 ALUMNI REVIEWS
"If you are you looking for a radically different yet incredible experience next summer, stop looking. This is it. Granted that this was my first time in Africa. And the first time I volunteered as a doctor. So the experience would have probably been a memorable one either way. That said, it was not just memorable, it was simply life-changing. IMA gave me a unique opportunity to both work as a doctor, and learn as a student. There was obviously some ramping-up to do, but it was just a matter of days until I started getting hands-on experience, working with dedicated mentors, and really wonderful colleagues. The organization was also great in helping me to explore, learn and live the city and culture of Mombasa. Locals are incredibly welcoming, and while you might think safety is an issue, the in-country support was just exceptional at making sure we did not take any unnecessary risks. And don't get me wrong. I did take risks. But they involved holding snakes with my own hands, driving by lions at Maasai Mara, and skydiving over the Mombasa valleys. And I can tell you those risks were totally worth taking. The worst part is that all of this happened while staying and living at genuinely one of the most wonderful dorms in the city, with great people taking care of you, and delicious food waiting on the table. Hope this does not sound too good to be true, but I really could not speak any better of my time in Kenya, with IMA. It has been an incredibly enriching experience, and one I will never forget."


-Felipe De Sande Palma, Universidad de Granada
"As a medical school applicant, this experience was worthwhile. As a volunteer at Mt. Meru Regional Hospital in Arusha, Tanzania, I got a chance to further my medical knowledge all while making a lasting impact within the local community. The doctors were so welcoming and went out of their way to explain unique clinical cases in depth. Following my volunteer experience, I can truly say I have a greater appreciation for medicine. The IMA staff were really friendly and ensured everything I needed was taken care of. I have done multiple volunteer trips in East Africa and I can say without hesitation that IMA is top tier when it comes to providing students a seamless experience. In the future, I would strongly consider doing an elective with IMA again."
-Soham Savani, Georgetown University
"I was introduced to IMA through a coworker who had gone on previous trips to Haiti with them. My family had many questions and concerns about safety which I was able to get answered for them prior to me departing. My first was very eye opening as to how people live in a third world country. We were well prepared for little food being available and no electricity most of the time. This is from the planning done by IMA. I felt the entire time that I was safe and well taken care of. I we were getting low on water Homayon made sure we received more. We have worked with great translators and been made to feel very welcome. This trip was hard for me at times as I had a mother bring me a deceased child looking for help. Homayon saw the emotional impact this took on me even though I didn't want to admit it. He stepped in and took my place so I could step back and gather myself. I didn't have to even say anything and he was able to see this. After my first trip I felt we had changed the lives of many. We saved so many that year just by being able to educate, give medications, and IV fluids. I knew I would go back the following year after the impact this year had made on me. After the trip Homayon encouraged us to give positive as well as negative feedback as to how to make the trip better. I felt like the organization did listen as I prepared for my second mission trip to Haiti.
"
-Tiffany Collins, Registered Nurse, Samaritan Memorial Hospital
"I was introduced to IMA and Homayon through his father, who worked at the same facility that I did. Upon returning from a mission trip to Haiti, I had the feeling that there was so much more that could be done. Upon "meeting" Homayon, he worked hard to try to make this first trip happen. He followed through on contacts that I had made, and our first trip with IMA was born. I was impressed with the way that Homayon interacted with other members of the team. Being on my first medical mission trip, I was really outside my comfort zone. But Homayon reassured, watched for problems, discussed the events of the day, and made us feel like we were an important part of the team…Because of the attentions that were shown by IMA, we were able to see the need in Haiti, and left knowing that we needed to return. And knowing that this return trip would be with IMA made it all the better."
-Sharon Kennison, Registered Nurse, Samaritan Memorial Hospital