The journey to dental school starts with understanding ADEA AADSAS. Standing for American Dental Education Association Associated American Dental Schools Application Service, ADEA AADSAS is a centralized application hub. It streamlines your path to multiple dental schools with one consolidated application, ensuring efficiency and simplicity.
Mapping Out the AADSAS Application Timeline
Applying to dental school is a phased journey. Knowing the AADSAS application timeline is essential to strategize and optimize your chances.
The ADEA Associated American Dental Schools Application Service (AADSAS) operates on an annual cycle. Typically, this cycle begins in early May and stretches until February of the subsequent year. However, don't mistake this for an invitation to procrastinate. Dental schools often use rolling admissions, meaning they evaluate applications as they arrive. The earlier you're in the mix, the better your chances.
Early Preparation: January to April
Research: Begin by looking into dental schools, their requirements, and unique selling points. Not all dental programs are created equal. Websites, forums, and consulting with current students or alumni are invaluable at this stage. Bookmark the dental school acceptance rates guide to keep yourself informed.
DAT Prep: The Dental Admission Test (DAT) is your ticket to standing out. Allocate ample time for preparation. Consider joining a prep course, and check our DAT guide for 2023 to equip yourself.
Gather Transcripts and Letters of Recommendation: Approach your recommenders early, giving them ample time to craft compelling letters. Simultaneously, ensure you have all your academic transcripts handy.
When Does Dental School Application open? - Launch: Early May
The AADSAS application typically goes live in the first week of May. Start by:
Creating an Account: Register on the ADEA AADSAS portal.
Drafting Your Personal Statement: This is your chance to shine and show the best dental schools why you're a unique fit. Remember to align your statement with your desired contributions to the field of dentistry.
Submission Window: June to September
June: Aim to submit your application by mid-June. Given the rolling admissions model, many dental schools employ, early submissions stand out.
July to September: Monitor your application's status via the portal. Ensure all documents, including DAT scores, are sent and received. This period also marks the peak for interviews. Make sure to prepare thoroughly and consider mock interviews.
Interviews and Decisions: October to February
October: Most early applicants will have secured interview slots by this month. Use this time to research the schools you're interviewing at, prepare questions, and rehearse answers.
November to February: As the AADSAS cycle winds down, decisions start rolling in. Celebrate your acceptance and weigh your options carefully if faced with multiple offers.
Post Application: March and Beyond
March: Most schools will have finalized their decisions by now. Hold onto hope if you're on waitlists, as spots can open up.
April: Use this month for reflection. Whether you secured a dental school spot or are considering re-application, assess your journey, gather feedback, and plan your next steps.
While the road to dental school might seem intricate, breaking it down into phases can simplify the process. By meticulously mapping out the AADSAS application timeline, you ensure that you're not just a step ahead but also making informed, strategic decisions at every juncture. As you embark on this journey, remember that knowledge is your compass. Equip yourself, stay updated, and trust in the process. Your dream dental school is just around the bend.
Laying the Foundation: Pre-AADSAS Application Steps
Embarking on your dental school journey is akin to building a house: without a solid foundation, the structure – no matter how impressive – risks crumbling. Before you tackle the AADSAS application, ensure your base is strong, detailed, and resilient. Before diving into AADSAS, certain preparatory steps will set the tone for a compelling application.
Meeting Dental School Prerequisites
Dental schools, while having unique attributes and selling points, largely converge on a set of prerequisites that candidates must fulfill. These courses are non-negotiable, ensuring each student enters with a standardized understanding of the essential dental sciences. In addition to showcasing your academic prowess, they testify to your commitment and preparedness for the rigors of dental education.
Common Pre-DAT Dental School Prerequisites include
Biology with Lab: One to two years of general biology coursework usually serves as the bedrock for more advanced dental sciences.
General Chemistry with Lab: A year's coursework in chemistry introduces you to molecular interactions, vital for understanding drug interactions and chemical processes in dentistry.
Organic Chemistry with Lab: This typically one-year course delves deeper into chemical structures and reactions crucial for pharmacology and materials used in dentistry.
Physics with Lab: Often a one-year requirement, physics provides an understanding of forces, movements, and energy—foundational for dental procedures and equipment.
English: At least a year of English ensures you can effectively interact with patients, staff, and peers.
Mathematics: Courses in statistics or calculus equip you with analytical skills essential for interpreting research and understanding quantitative aspects of patient care.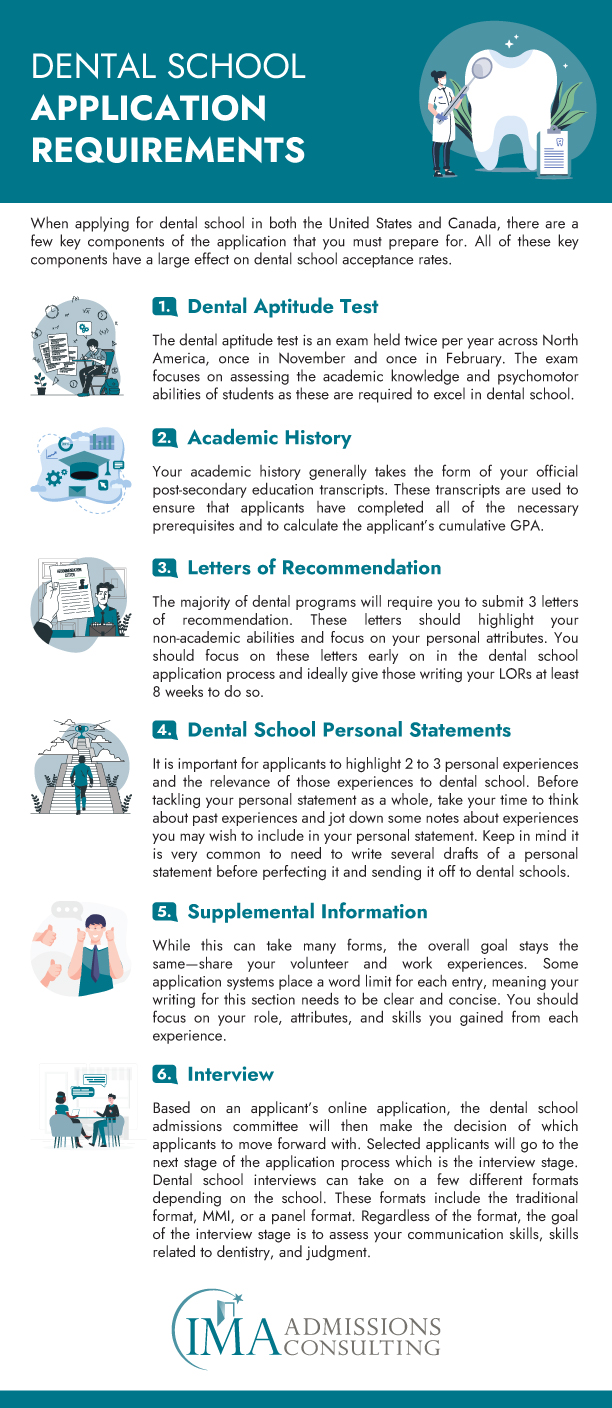 Achieving Core Competencies
Beyond the academic prerequisites, dental schools seek candidates with a broader skill set. The ADEA has outlined core competencies as markers of a well-rounded, competent dental school candidate. These competencies ensure that aspiring dentists have the technical knowledge and the personal and professional attributes to succeed in the field.
The ADEA's Core Competencies encompass
Critical Thinking: The ability to gather, interpret, and evaluate information objectively is paramount in dentistry.
Professionalism: Adherence to ethical principles, commitment to ongoing learning, and demonstrating empathy and respect solidify one's role as a trusted healthcare provider.
Communication Skills: Dentists interact with a diverse array of individuals. Hence, effective oral and written communication and active listening skills are crucial.
Health Promotion: Understanding preventive health, disease prevention, and overall wellness is integral to a dentist's role.
Practice Management and Informatics: This competency revolves around effectively managing a dental practice and leveraging technological tools to enhance patient care.
Patient Care: At the heart of dentistry is patient care. This encompasses assessing, diagnosing, planning, implementing, and evaluating treatment interventions effectively.
Scientific Knowledge: A sound grasp of biomedical, clinical, and dental sciences underpins every decision in patient care.
Dental schools look for candidates with core competencies ranging from ethical reasoning to scientific knowledge. Familiarize yourself with these core competencies as set by ADEA.
When Should You Take the DAT?
Ideally, you should venture into the DAT realm right after wrapping up your junior year, especially post your organic chemistry lessons. The reasoning? This period provides a sweet spot, balancing the relevance of recently learned concepts and the timeline for dental school applications. The ADEA's recommendation aligns with this, suggesting students embark on this challenge at the end of the spring semester of their junior year.
Registration and Prepping for the DAT
The first tangible step on your testing journey will be registration. Upon this pivotal act, a stream of instructions will flow, guiding you through the computerized testing process at a nearby Testing Center. While the ADEA sets the stage with available dates and times, you can pick what aligns with your schedule.
During this process, you'll also be introduced to your DENTPIN, an identifier that'll be your loyal companion throughout the application process. A word to the wise? Safeguard it like a treasure.
While the term "D.A.T." might evoke a sense of vastness, when we break it down, it evaluates three central competencies:
Overall Academic Ability: Does your foundational knowledge make the cut?
Scientific Understanding: How well can you navigate intricate scientific concepts?
Perceptual Ability: How do you perceive, interpret, and respond to information?
The Dental Admission Test (D.A.T.) is a crucial gatekeeper in your dental school journey. It assesses:
Survey of the Natural Sciences: Your foundational scientific knowledge.
Perceptual Ability: Essential for procedures like crafting dental molds.
Reading Comprehension: The ability to understand dense medical texts.
Quantitative Reasoning: Skills necessary for dosage calculations and more.
Send Scores Everywhere: An Insider Tip
During your test registration, you'll get the option to send your scores to all dental schools in the U.S. at no extra charge. While this might seem overboard, it's a strategic move. Sending scores everywhere doesn't dent your wallet, but adding schools later might. A notable distinction: only the schools you apply to will view your scores.
Post the test, anticipate a 3-4 week window for your official scores to make their electronic journey to AADSAS. Remember, the early bird gets the worm. Dental schools prioritize complete applications, so submitting all components, including your test scores, early works in your favor.
Retakes: Proceed with Caution
Unsatisfied with your test score? The ADA offers a retake route, allowing candidates to take the test once every 90 days. But, there's a cap – three attempts. Beyond this, you'll need the ADA's nod to retest, which, if granted, restricts you to an annual retest.
Here's a nugget of wisdom: A delay in your scores can ripple into your application timeline. Start early, prepare diligently, and aim for a score that resonates with your aspirations.
Dental Realities: Shadowing and Manual Dexterity
Aspiring to be a dentist is more than just mastering the theoretical aspects of the profession; it's about understanding the practical day-to-day operations and mastering the delicate dance of hand skills essential for patient care. International Medical Aid offers opportunities to witness these realities up close.
Shadow a General Dentist with International Medical Aid
Understanding the nuances of dental practice goes beyond textbooks and lectures. To truly comprehend the daily life of a dentist, one must immerse themselves in the setting. This is where shadowing becomes invaluable. Shadowing provides prospective dental students with a real-world view of the profession, allowing them to witness firsthand the challenges and rewards of dental practice.
Benefits of Shadowing with International Medical Aid
Direct Observation: Engage in observing various dental procedures, from routine cleanings to more complex surgical interventions.
Interpersonal Skills: Watching a dentist interact with patients can teach you the art of communication, empathy, and patience, essential traits for a healthcare provider.
Networking: Building relationships early on can offer long-term benefits, including mentorships and potential job opportunities.
Diverse Exposure: International Medical Aid's Dentistry Internships give students access to dental practices, including those in underserved areas, providing a broader perspective of global dental care.
If you're aiming to build a robust dental school application, it's essential to have shadowing hours under your belt. International Medical Aid offers tailored programs that help you fulfill this requirement and ensure the experience is rich, diverse, and profoundly enlightening.
Honing Manual Dexterity: An Artful Approach to Dentistry
Dentistry is a profession of precision. The slightest misalignment or error can result in significant issues, making manual dexterity an indispensable skill for aspiring dentists. Just as an artist crafts their masterpieces with meticulous hand movements, a dentist must have impeccable hand skills to ensure safe and effective patient care.
Ways to Enhance Your Manual Dexterity
Engage in Sculpting: Creating sculptures, especially those that require fine detailing, can significantly enhance hand-eye coordination. This hobby mirrors the precision needed for dental procedures.
Try Intricate Crafts: Activities like needlepoint, model-building, or even jewelry-making demand steady hands and focused attention, echoing the concentration required in dentistry.
Play Musical Instruments: Instruments, particularly those like the guitar or piano, need finger dexterity. Learning and practicing can be an enjoyable way to build manual skills.
Participate in Dental Workshops: International Medical Aid often holds workshops where you can practice on dental manikins, allowing you to get a feel for actual dental procedures.
Feedback from Professionals: If you're shadowing through International Medical Aid, take the opportunity to discuss your interest in improving manual dexterity. Many dentists offer insights and even hands-on practice sessions to help.
Incorporating shadowing and manual dexterity into your pre-dental school journey is not just about building an impressive CV. These experiences, mainly when gained through esteemed organizations like International Medical Aid, shape you as a professional. They provide context, hone skills, and instill a profound understanding of dentistry's tangible and intangible aspects.
Embarking on the ADEA AADSAS Application Journey
Entering the realm of dental academia requires more than passion and skill; it demands diligence, preparation, and an impeccable application. The ADEA AADSAS application serves as your passport to dental school, and every section contributes to crafting your academic narrative. Let's explore the initial components to ensure you're on the right path.
Personal and Other Information: Crafting Your First Impression
The first part of any application introduces you to the admissions committee. This is your initial handshake, your first impression. So, it's crucial to get it right.
DENTPIN: Short for Dental Personal Identifier Number, the DENTPIN acts as your unique ID throughout your dental education journey. This number is your constant identifier for tests like the D.A.T. or applications like AADSAS. Registering for a DENTPIN well in advance and keeping the information secure is imperative.
Felony and Misdemeanor Convictions: Integrity and transparency are paramount in medicine. Any past convictions, be it a felony or misdemeanor, must be disclosed upfront. Being forthright about your past ensures trust and can be discussed further during interviews.
License and Academic Infractions: As with legal convictions, any discrepancies during your academic tenure or with professional licenses you hold should be clearly stated. This includes academic probation, code of conduct violations, or other infractions.
Other Sections: AADSAS might have additional sections tailored to gather miscellaneous details about you. Carefully read through instructions and provide accurate information.
Remember, this section isn't merely about data entry. It's a reflection of your personal history, ethics, and integrity.
Your Academic Trail: Showcasing Your Scholastic Prowess
The essence of your application lies in your academic achievements. It's a testament to your dedication, intellectual prowess, and suitability for a rigorous dental program.
This is where your academic history, from your undergraduate years and beyond, comes into play. Make sure to request transcripts early to avoid last-minute issues. It's also advisable to order a copy to cross-check and ensure accuracy.
Strategic Applications: The flexibility offered by AADSAS to apply to multiple schools is an advantage. However, the key is discerning and targeting institutions that align with your goals.
In-depth Research is Crucial: Before adding a school to your 'My Programs' list, ensure you:
Examine the Curriculum: Understand the courses and teaching methods provided.
Consider the Location: Evaluate the surroundings and potential living conditions. Determine if it suits your preferences.
Review Opportunities: Identify the scope for hands-on learning, clinical exposure, or research projects.
Study Alumni Profiles: Recognize the potential network and opportunities the institution offers through its alumni.
Assess Financial Aspects: Look into tuition, potential scholarships, and financial aid to ensure feasibility.
Personalize Your Application: Every dental school has its unique characteristics and values. Customizing your application to reflect an understanding and alignment with each school's ethos can set you apart.
Transcript Entry and Coursework
This section requires meticulous attention. You'll need to enter coursework for each academic term. It's not just about grades; it's about the courses you chose, the rigor of your curriculum, and how you performed over the years.
Your academic history often becomes the first filter in the selection process. Any discrepancy or error can cost you dearly. While grades play a significant role, the holistic academic journey, with all its highs and lows, paints the full picture.
In this era of fierce competition, every section of the AADSAS application is a potential game-changer. Approach each part with precision, authenticity, and a clear understanding of its significance. Your journey in the world of dentistry is just a successful application away.
Tests, Letters, and Supporting Information: Enhancing Your AADSAS Profile
The AADSAS application, much like a multifaceted gem, showcases diverse aspects of your persona, going beyond just your academic achievements. It delves into who you are, what you've done, and your aspirations.
The Dental Admission Test is a rite of passage for every dental school aspirant. This test evaluates your knowledge in areas fundamental to dentistry, like biology, chemistry, and perceptual ability. Your score is often one of the first metrics admission committees consider, making it vital to prepare thoroughly and aim for an impressive score.
Letters of Recommendation: Voices Vouching for You
The Importance of an External Voice
Letters of recommendation serve as more than just formalities in your application process. They are your endorsements, highlighting facets of your character and professionalism that aren't always evident through grades or personal essays. A strong recommendation can provide a lens into your work ethic, determination, interpersonal skills, and other critical attributes that dental schools value.
Different Types of Recommendation Letters and Their Significance:
Individual Letters: A Close-Up View
Origins and Impacts: These are usually penned by individuals who have had a close professional or academic relationship with you. This might be a faculty member who recognized your analytical skills in class, a research advisor who collaborated with you on a project, or a dentist who observed your dedication during shadowing sessions.
Key Takeaways: What's invaluable here is the depth of observation. These letters often contain anecdotal evidence of your dedication, showcasing your diligence, or moments highlighting your passion for dentistry.
Committee Letters/Packets: The Collated Assessment
Origins and Impacts: Typically generated by institutions with a dedicated pre-health committee, these letters are collective evaluations. They draw upon feedback from multiple faculty members, advisors, and other relevant personnel.
Key Takeaways: Such letters provide an aggregate assessment. The fact that multiple academicians come together to vouch for a candidate's suitability adds considerable weight to an application. It often denotes a consensus on the candidate's aptness for the rigors of dental school.
Composite Letters: The Panoramic Perspective
Origins and Impacts: As the name suggests, these are assembled from various recommendation sources. This could mean combining insights from a project mentor, a volunteering supervisor, and a senior dentist you've worked with.
Key Takeaways: Offering a multifaceted view of the applicant, these letters illuminate the candidate's versatility. They show how the applicant has performed in varied environments, be it a challenging academic scenario, a community service setup, or a clinical setting.
Guidelines for Securing Strong Recommendations:
Choose Wisely: It's vital to approach individuals who know you well rather than those with impressive titles but a limited understanding of your attributes.
Provide Context: When requesting a recommendation, furnish your recommender with your CV, personal statement, or any other relevant document. This helps them craft a more informed and impactful letter.
Maintain Communication: Keep your recommenders in the loop regarding deadlines, specific requirements of dental schools, or any other pertinent detail.
Express Gratitude: Always thank your recommenders for their time and effort. Their support is a pivotal element in your application journey.
While it might be tempting to inundate the admissions committee with numerous letters, submitting a few well-crafted, insightful recommendations is more effective. These letters resonate with your personal statement and other application components, reinforcing your candidacy.
Letters of recommendation are not mere formalities but powerful testimonials that can sway admission decisions. Ensuring these letters are genuine, insightful, and resonant strengthens the authenticity and persuasiveness of your dental school application.
The Heart of Your Application: Experiences, Achievements, and Personal Statements
Experiences: Whether it's that summer you spent at an International Medical Aid Dental Dhadowing Program or a research job, every experience adds a feather to your cap. Detail these experiences, emphasizing what you learned and how they shaped your dental aspirations.
Achievements: Beyond grades and scores, your achievements—like presenting a paper, winning an inter-college competition, or organizing a community health camp—reflect your initiative and drive.
Certifications/Licenses: List them if you've gone the extra mile to acquire additional certifications or licenses. It could be anything from a certification in dental software to a first-aid license.
AADSAS Personal Statement: Often the soul of your application, the personal statement is your platform to convey your story. Why dentistry? What drives you? How do you envision your future in the field? This narrative, infused with your passion and dreams, can often tip the scales in your favor.
Every Experience Shapes You - IMA Experience Consulting
At International Medical Aid, we recognize that becoming a dentist isn't just about mastering clinical skills—it's also about cultivating a deep understanding of diverse cultures, environments, and human experiences. Our IMA Safaris are designed to do just that, providing you with enriching adventures that seamlessly integrate with your dental internship.
How can these adventures elevate your dental career? It's simple: immersion. By plunging into the heart of our distinct destinations, you get to absorb intricate cultural nuances. This doesn't just make you a well-traveled individual; it equips you with the kind of empathy, understanding, and perspective that future patients will deeply value. These adventures will expand your worldview, allowing you to relate to and care for patients from diverse backgrounds with sensitivity and depth.
In your Experience section, consider adding our curated adventures. Recount the moments when you stood amidst the vibrant wildlife of the Masai Mara Game Reserve or when you felt the silent might of Mount Kilimanjaro. Reflect on the awe you felt at Victoria Falls or the historic trails you traversed at Machu Picchu. 
Narrate your encounters with the unique beauty of the Galápagos Islands and the expansive vistas of the Serengeti National Park. With IMA, you're not just listing travel destinations; you're detailing life-changing experiences that have broadened your horizons and enriched your journey.
So, as you stride forward in your dental pursuits, let us add layers of depth, understanding, and wonder to your educational journey. With the experiences curated by IMA Adventures, you're not just preparing to be a dentist; you're setting the foundation for a globally aware, empathetic, and well-rounded dental professional.
The AADSAS Personal Statement: Your Passion for Dentistry
The Essence of Your Application
The AADSAS Personal Statement is a testament to your journey, aspirations, and dedication toward a career in dentistry. While metrics like grades and scores provide a quantitative assessment, this statement offers an introspective look into your motivations. The narrative stitches together all elements of your application into a cohesive story.
Parameters and Structure: Crafting Within Constraints
Your personal statement for all dental schools you apply to should be a universal testament to your drive. It is essential to stay within the 4,500 character limit, which spans approximately a single-spaced page. This constraint challenges you to be concise yet compelling. And although it's a standard statement, reflecting on 2-3 core competencies that dental professionals embody can help anchor your narrative.
Essential Elements of an Impactful Dental School Personal Statement
Narrative Arc: Begin with a story, a moment of revelation during your undergraduate years or an experience that solidified your passion for dentistry. Stories engage the reader, providing context and evoking emotion.
Clear Motivation: Address the fundamental question – "Why dentistry?" Delve into personal experiences, be it a transformative dental internship or a close family member's oral health journey that inspired you.
Authenticity: Ensure your statement resonates with genuineness. Admissions committees can discern between genuinely passionate applicants and those merely riding the wave.
Vision for the Future: Dentistry is not just about the present; it's about the impact you wish to make in the field. Share your aspirations, whether pioneering a dental tech innovation or serving in underserved communities.
Strategies to Enhance Your Statement
Show, Don't Just Tell: Instead of stating facts, use descriptive prose and anecdotes. For instance, instead of saying, "I've interned at a dental clinic," narrate an incident where you comforted a nervous patient, highlighting your empathy and interpersonal skills.
Conciseness: Given the character limitation, every word must be purposeful. Avoid verbosity; instead, opt for clarity and precision.
Proofreading: Before pasting your statement into the submission box, proofread it multiple times. Ensure it adheres to the character limit. Also, remember that bold or italicized text formatting won't reflect in the submission box, so avoid relying on them for emphasis.
Expert Resources to Guide You
Navigating the complexities of the dental school application process can be challenging. This is where external expertise becomes invaluable. At International Medical Aid, our commitment is to provide tailored admissions consulting that addresses the unique requirements of dental school aspirations.
Our team of professionals understands the intricacies of the dental admissions landscape. They are equipped to assist you in articulating your experiences and ambitions into a compelling and authentic narrative. This ensures that your statement stands out and genuinely reflects your journey and commitment to dentistry.
Collaborating with International Medical Aid's consultants places your application in experienced hands, enhancing its potential to resonate with admissions committees. We're here to support your vision and help you present your path most effectively.
Leaving a Lasting Impression
Your AADSAS Personal Statement is a golden opportunity to leave a lasting mark on the admissions committee. By blending personal anecdotes, clear motivations, and a vision for the future, you can craft a narrative that answers "Why dentistry?" and "Why you for dentistry?"
Program Materials and Submission: The Final Frontier
Every dental school has its unique ethos and, consequently, specific requirements. Once the primary AADSAS application is filled, focus on the additional program materials each school demands. It could range from supplemental essays to specific achievements.
Before you hit the 'submit' button, take a step back. Review every section, ensuring accuracy and completeness. Remember, a rushed application with errors can undo all your hard work.
Post-Submission: The AADSAS Review Process
Breathe! With the submission done, your application embarks on its journey through the review process. Admissions committees adopt a 'Holistic Review.' This means they're not just gauging you based on scores or grades; they're evaluating the entirety of your application.
Your experiences, competencies, personal statement, and more come under the scanner. This comprehensive approach ensures that dental schools select candidates who are not just academically adept but are well-rounded individuals poised to make significant contributions to the world of dentistry.
The AADSAS application isn't just about listing your achievements; it's about weaving a compelling narrative that resonates with your passion for dentistry. With diligence, authenticity, and introspection, your application can be the ticket to your dream dental school.
The Final Stretch: Dental School Interviews
Congratulations! Being called for an interview indicates that you've crossed the first hurdle. Your application stands out on paper. But now, it's time to validate that image and make a lasting impression in person. The interview isn't just for the school to assess you; it's also an opportunity for you to gauge if the school aligns with your aspirations.
Demystifying the Dental School Interview
The interview's objective is twofold: for the school to understand who you are beyond the application and for you to comprehend the school's ethos, culture, and offerings. Most interviews revolve around understanding your journey, your motivation behind choosing dentistry, and gauging your interpersonal and communication skills.
Behavioral Questions: These are structured to understand how you've handled situations in the past, implying how you might tackle them in the future. Questions might range from "Describe a challenging situation you encountered during your shadowing experiences and how you dealt with it" to "Talk about a time you disagreed with a team member and its resolution."
Situational and Ethical Questions: Here, you might be presented with hypothetical scenarios pertinent to dental practice. The aim is to assess your critical thinking, ethical grounding, and decision-making abilities.
Personal Motivation and Goals: Expect questions that probe deeper into why you chose dentistry, where you see yourself in the next decade, and how you plan to contribute to the field.
While you cannot predict every question, you can undoubtedly prepare:
Mock Interviews: Practice with mentors, peers, or through admissions consulting services offered by International Medical Aid. This will help in refining your answers and improving your presentation.
Know Your Application: Be ready to discuss any part of your application, from experiences to the personal statement. Remember, consistency is vital. Your spoken words should mirror what's written.
Research the School: Understanding the school's values, programs, and culture can provide insights you can integrate into your answers. This shows your genuine interest and that you've done your homework.
Soft Skills: Non-verbal cues like maintaining eye contact, a firm handshake, and attentive listening can make a significant difference. Remember, communication isn't just about speaking; it's also about listening and understanding.
Post-interview, sending a thank-you note to your interviewers is a good practice. Express gratitude for their time and reiterate your keen interest in the program. This shows your appreciation and keeps you fresh in their memory.
Continuing Your Dental School Application Journey
The journey to dental school isn't a sprint; it's a marathon. Post the interview; there might be a waiting period. Use this time productively:
Reflect: Analyze your interview performance. Think about questions you felt you answered well and areas where you might have faltered. This reflection will be beneficial if you have subsequent interviews or need to reapply.
Stay Engaged: Continue with your dental-related activities, shadowing, volunteering, or research. Schools appreciate candidates who are consistent in their dedication to the field.
Stay Informed: Keep abreast with any correspondence from the schools. Sometimes, there might be additional requirements or information sessions you need to attend.
Network: Engage with current students or alumni. Their insights can provide a clearer picture of what to expect and how to navigate any forthcoming challenges.
Remember, the journey to dental school is as much about self-growth as it is about admissions. Every stage, from the AADSAS application to interviews, is an opportunity to learn, evolve, and come closer to realizing your dream of contributing to dentistry. Your aspirations can become a reality with perseverance, introspection, and continuous learning.
Frequently Asked Questions
Every application process comes with its own set of questions. Let's explore some of the most commonly asked ones about ADEA AADSAS.
When does the dental school application open?
How long does it take for ADEA AADSAS to process my application?
The processing can take 4-6 weeks once all required materials are received. Remember, the earlier you submit, the better, as dental school admissions can be rolling.
How do I ensure my application stands out?
Apart from stellar academics and a high score, focus on your personal statement, experiences, and letters of recommendation. Consider seeking Dental School Admissions Consulting to perfect your application.
What if I update my application post-submission?
Certain sections of your application can be updated even after submission. However, major components, like your personal statement, cannot be altered. Always review thoroughly before submitting.
How do dental schools receive my application?
Once your application is verified, ADEA AADSAS sends it electronically to your chosen dental schools.
Are there any resources to prepare for the Dental Admission Test?
Making The Right Choice: Deciding On Your Dental School
The culmination of countless hours of preparation, effort, and dedication is when you hold those dental school acceptances in your hands. With choices come decisions, and deciding on the right dental school is paramount, as the next few years will shape your professional journey. Here's an expanded guide to help you make an informed choice.
Curriculum and Teaching Style
The dental school curriculum is the backbone of your academic journey. When analyzing a school:
Depth and Breadth: Does the curriculum cover all essential areas of dentistry? Are there elective courses that interest you?
Approach: Some schools lean towards problem-based learning, emphasizing real-world scenarios and critical thinking. Others may have a lecture-based, traditional format. Understand what suits your learning style.
Facilities and Technology: Modern dentistry is technologically driven. Ensure the school is equipped with the latest tools and techniques.
The location isn't merely about geography. Delve deeper:
Proximity to Family and Support Systems: Dental school can be demanding. Being close to loved ones can provide emotional and logistical support.
Climate: If you're used to warmer climates, a school in a colder region might require a significant adjustment and vice versa.
Living Costs and Lifestyle: Beyond tuition, consider the cost of living, potential part-time job opportunities, and recreational facilities.
Hands-on experience is pivotal in dentistry:
Start Time: Schools that introduce early clinical exposure can be beneficial, giving you a taste of real-world dentistry sooner.
Diversity of Patient Encounters: A school in a diverse community or near a bustling urban area might offer a broader range of patient cases.
Externships and Internships: Some schools offer opportunities to work in external clinics or abroad. Such experiences can be enriching.
For those looking to contribute to the evolving field:
Availability of Research: Investigate the variety and depth of ongoing research projects.
Faculty Credentials: Faculty involved in cutting-edge research can be a treasure trove of knowledge and provide mentorship opportunities.
Funding and Grants: Does the school actively receive grants? It could be an indicator of its research emphasis.
A practical consideration that cannot be ignored:
Return on Investment: Look beyond just the tuition fee. Consider the school's reputation, potential earnings after graduation, and alumni network.
Scholarships and Aid: Some schools offer generous scholarships based on merit or need. Also, explore options for work-study or assistantship roles.
Lastly, the intangible yet crucial aspect:
School's Ethos: Does the school emphasize community service? Is there a culture of competition or collaboration?
Student Interaction: Interact with current students or recent alumni. Their firsthand experiences can give you insights no brochure can.
Support Systems: Check for mentoring programs, mental health support, and academic counseling.
Choosing a dental school is a balance of tangible factors like curriculum and costs against intangible ones like culture and gut feeling. Remember, it's about finding a place where you learn the art and science of dentistry and find personal growth, lasting friendships, and professional mentorship. Your dental school isn't just an institution; it's your home for the next few years. Decide with care, foresight, and a dash of intuition.
Choosing a career in dentistry is both noble and demanding. The ADEA AADSAS process, while comprehensive, is designed to ensure that the future dental community is competent, passionate, and dedicated.
As you embark on this journey, remember to be genuine in your application, seek guidance when needed, and always hold onto why you chose dentistry. Let that passion guide you, whether it's the joy of transforming a smile, the intricacies of oral surgery, or the impact of oral health on overall well-being.
Take your time, make informed choices, and soon, you'll be on your way to a fulfilling dental career. And, if you ever need guidance, whether it's about dental school or healthcare internships, International Medical Aid is here to assist. Together, let's craft a future you'll be proud of.
Training, Licensing, and Certification Requirements for Dentists
As a medical field, dentistry requires rigorous training, specific licensing, and continuous certification. It's not just about the title; it's about ensuring the highest quality of patient care, staying abreast with technological advances, and upholding the esteemed ethical standards of the profession. Here is a comprehensive guide on How to Become a Dentist in 2023: Training, Licensing, and Certification Requirements.
Before delving into dental school, one must complete an undergraduate degree, ideally emphasizing science courses like biology and chemistry. This foundational education provides the scientific background necessary for further specialization in dentistry.
After the bachelor's, aspiring dentists must attend a dental school accredited by the Commission on Dental Accreditation. This rigorous 4-year program is a combination of classroom-based learning and clinical experience. It leads to a Doctor of Dental Medicine (DMD) or Doctor of Dental Surgery (DDS) degree.
Holding a DMD or DDS is not enough to practice. Each state in the U.S. has its licensing requirements, which typically involve:
Written Exam: Often, this is the National Board Dental Examination, covering a vast array of subjects ranging from dental science to ethics.
Clinical Exam: A hands-on test where candidates demonstrate their clinical proficiency.
It's important to note that licensing requirements might differ across states, so dentists planning to practice in a different state might need to meet additional criteria.
Specialization (Optional)
Dentistry isn't just about general practice. There are various specializations, like orthodontics, pediatric dentistry, and oral surgery. Each specialization requires additional training and sometimes separate licensing or certification. These postgraduate programs can range from 2 to 6 years.
Continuous Certification and Education
Medicine, in general, is a field of continuous learning. New techniques, tools, and research findings emerge regularly. To ensure dentists stay updated:
Certification Renewal: Some states require dentists to renew their licenses periodically, which may involve retaking exams or demonstrating continued education.
Professional Courses and Workshops: Many dental associations and institutions offer courses, workshops, and seminars to keep professionals updated. This not only sharpens their skills but can also expand their professional network.
Additional Opportunities with International Medical Aid
For those who are internationally inclined, organizations like International Medical Aid offer programs that can be beneficial. Their shadowing programs, for example, provide a global perspective, exposing aspiring dentists to different practices, techniques, and challenges faced in dentistry worldwide.
How International Medical Aid Can Help
Navigating the ADEA AADSAS application process can feel daunting. At International Medical Aid (IMA), we offer dental school admissions consulting to help you craft an outstanding application.
Our expert consultants can assist you in understanding your unique strengths and how to position them effectively in your application. From guidance on your personal statement to interview preparation, we provide comprehensive support to ensure you present your best self to dental schools.
Ready to take the next step toward your dream of becoming a dentist? Schedule an appointment with an IMA admissions consultant today!