We often talk a lot about medical school and the various MD programs available across the country, but today we want to chat about dental school. Are you considering becoming a dentist and are curious about what the easiest dental schools to get into are? You're in luck because in this article we are going to chat all about dental school, dental schools with the highest acceptance rates, and more.
Let's dive into the easiest dental schools to get into in 2022.
10. Southern Illinois University of Dental Medicine (Alton, IL)
The Southern Illinois University of Dental Medicine offers students with a high level of faculty access, thanks to its small student body size. Graduates from the university enjoy a first time pass rate on the National Board Dental Exams.
The university recommends but does not require a BS or BA, three years of undergrad, and a list of the required coursework needed to attend their dental college. Southern Illinois University also does not require clinical or shadowing experience, but these types of experiences will make your application stand out among the rest.
Over half of the graduates from this college go into a private practice. Thanks to the low cost of living in Alton, Illinois, and the school's lower-than-average tuition, students are able to graduate without the burden of heavy debt.
Students of Southern Illinois University begin their training in a state-of-the-art simulation lab before moving on to working directly with patients in an array of community service settings.
Acceptance Rate: 7.91%
Average Undergrad GPA: 3.66/4.0
DAT Academic Average: 19.9
9. University of Alabama School of Dentistry (Birmingham, AL)
This university has a history dating back to 1948, but don't let this fool you this school continues to stay at the forefront of dental innovation and technology. During the 1960s, UAB Dental introduced dental hygienists to the dental practice. Today students of UAB can partake in auxiliary programs that cover a variety of topics such as craniofacial development, biomaterial science, and oral cancer.
The college hosts the National Dental Practice-Based Research Network which is a community of dental professionals who share practice-based dental research insights. Through various partnerships around the state of Alabama, UAB Dental provides dental care for those in underserved populations and gives dental students the opportunity to with patients of varying ages in a variety of clinical circumstances.
Students who wish to attend the University of Alabama School of Dentistry should have a minimum of three years of undergrad study, including the required prerequisite courses that UAB lists on their website. UAB also offers dual degree programs that combine a PhD or MBA with a DMD for those students who are interested in clinical research.
Acceptance Rate: 7.8%
Average GPA: 3.75/4.0
DAT Academic Average: 19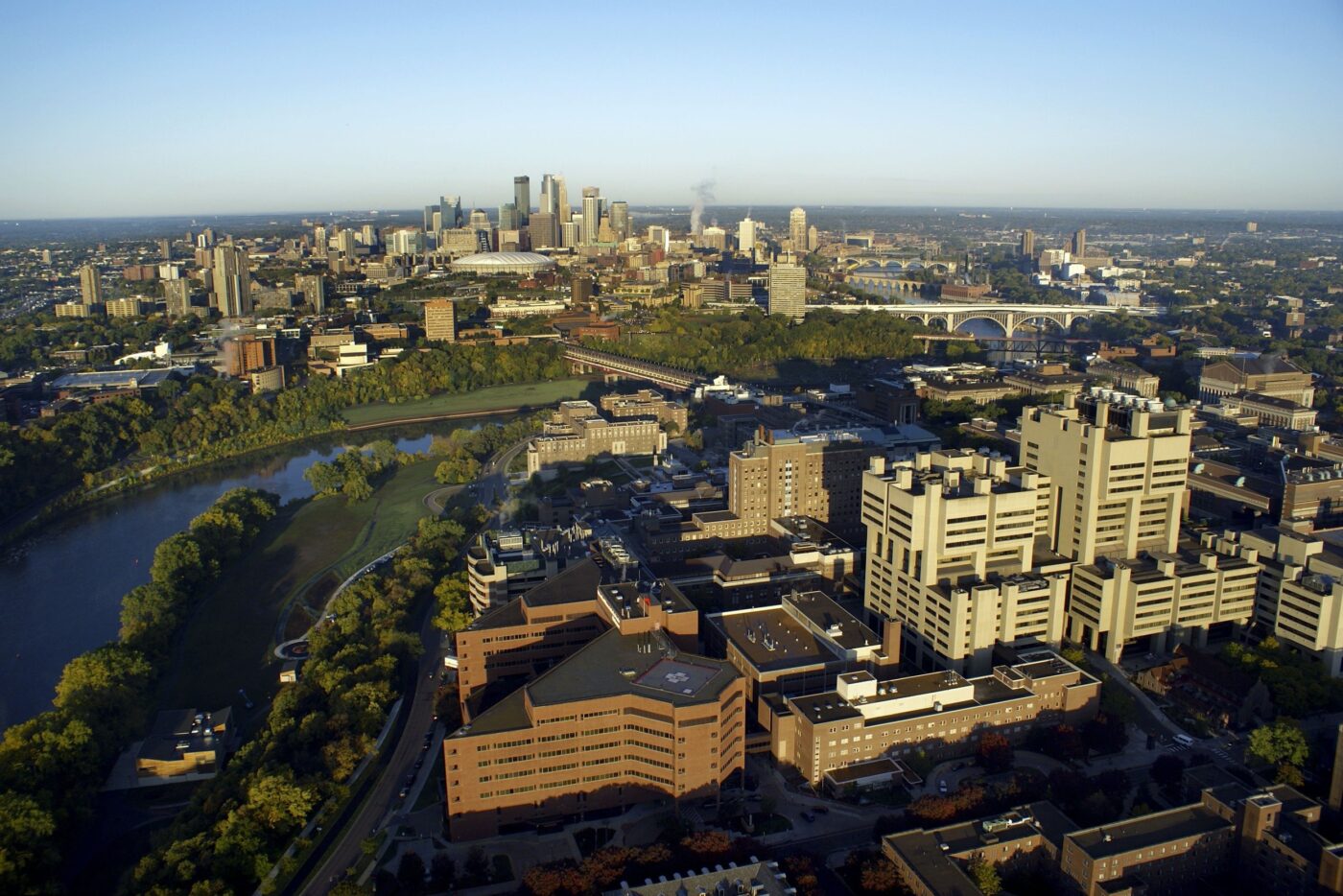 8. University of Minnesota School of Dentistry (Minneapolis, MN)
The University of Minnesota educates and trains nearly three-quarters of Minnesota's practicing dental professionals. The college offers a host of specialty programs such as maxillofacial surgery and periodontology plus a Doctor of Dental Surgery degree.
Clinical rotations for this university take place within community outreach programs across North Dakota, South Dakota, and Minnesota. Senior dental students can choose to volunteer 2 weeks of their time over the summer to participate in Indian Health Service/Tribal Outreach externships.
For students who are still trying to figure out if dental school is the right choice for them, Minnesota offers a dental school prep course where students can explore career options, attend lectures, and use dental simulation tools. Students who need further help deciding if dental school is the right path for them can seek professional guidance from International Medical Aid's invaluable medical school admissions consulting service.
If you want to attend the University of Minnesota School of Dentistry, you will need to have completed 87 undergrad semester credits (at minimum). While the admissions committee states that they value the quality of an applicant's undergrad coursework over their course selection, the college does still have a list of required prerequisites.
Acceptance Rate: 10.21%
Average GPA: 3.67/4.0
DAT Academic Average: 20.9
7. Louisiana State University Health Sciences Center School of Dentistry (New Orleans, LA)
Louisiana State University offers programs in dental lab technology and dental hygiene plus a DDS program. Students of the college are also able to pursue fellowships in specialized dental fields such as implants, special needs dentistry, prosthodontics, and pediatric dentistry.
LSU is located in the metropolitan area of Baton Rouge and is a large state school with a very active campus. The cost of living here is fairly low and even non-resident students pay only $63,839 per year in fees and tuition. Residents pay $35,141 per year.
LSU has a two-part application process which starts with students submitting the necessary information to the Associated American Dental School Application Service. All eligible applicants will then receive the materials needed to complete the next stage of the application process. A unique factor of this college's applications is that all applicants must complete a chalk carving to demonstrate their manual dexterity.
Acceptance Rate: 9.38%
Average GPA: 3.64/4.0
DAT Academic Average: 21.5
6. University of Puerto Rico School of Dental Medicine (San Juan, PR)
The University of Puerto Rico offers students a comprehensive 4-year DMD degree program through their school of dentistry. Students will attain the practical skills needed to run a dental practice, specialized training in both geriatric and pediatric dentistry, and training in the diagnosing of orofacial abnormalities and diseases.
Requirements for this university include a broad coursework base in the humanities and sciences including hours in both Spanish and English. Fees and tuition for the first two years come in at around $50k per year with years 3 and 4 costing slightly less. The total cost for all four years is around $180k.
The University of Puerto Rico receives applications through the Advanced Dental Education Programs portal. The college is the only dental school in Puerto Rico and is accredited by the ADA, meaning graduates can go on to practice dentistry on the mainland if they chose to do so.
Acceptance Rate: 10%
Average GPA: 3.5/4.0
DAT Academic Average: 17
5. Augusta University Dental College of Georgia (Augusta, GA)
The Dental College of Georgia offers a 4-year DMD degree that is designed to prep students for licensing and practicing dentistry. Dual degrees such as a DMD/MBA and DMD/PhD in Oral Biology are also offered by the university.
This school is a public university and serves as the health sciences college in Georgia. With 150 years of healthcare education experience, the college provides hands-on training to all of its students.
The college's campus in Augusta is about 2 hours from Atlanta, Georgia. This college utilizes the AADSAS preliminary application and interviews are by invitation only. Students who are accepted into the school's program have a great opportunity to network as there are 15 dental student organizations on campus.
Acceptance Rate: 11.2%
Average GPA: 3.6/4.0
DAT Academic Average: 20
4. Ohio State University College of Dentistry (Columbus, OH)
The OSU College of Dentistry is the 4th largest in the United States. The college tracks first-generation students from the Appalachia region and supports their mission to provide dental care to regional underserved populations.
The university's DDS degree can be combined with a research-oriented PhD or Master of Public Health. Those who wish to apply should use the AADSAS service and check the college's website for a full list of required prerequisites.
OSU requires that applicants have a minimum of 40 hours of dental experience. Although the most successful candidates have around 120 hours of dental experience. To best help students from underserved populations, the university offers a 1-year DentPath entry program. Those who complete this program will automatically earn a spot in OSU's DDS program.
In total, the cost of matriculation for students is around $85k for the most costly year of the 4-year program. The remaining 3 years typically cost a bit less, but it is also to keep in mind that non-resident students will pay between $43k to $56k more per year.
Acceptance Rate: 9.65%
Average GPA: 3.65/4.0
DAT Academic Average: 21
3. University of Missouri-Kansas City School of Dentistry (Kansas City, MO)
This college offers an extensive school experience in the metro area of Kansas City. The University of Missouri-Kansas City is located within the major healthcare system known as Hospital Hill.
UMKC students begin clinical work during the first year of the program because the college values hands-on experience as a crucial training component. The college also includes team assignments and collaborative problem-solving as part of the curriculum.
Qualified eligible applicants will have completed at least 90 hours of undergraduate coursework, including the prerequisites required by UMKC.
The university strongly recommends that students have a minimum of 100 hours of clinical experience across 5 settings as well as 100 hours of community service across 5 settings. Those who are residents of Missouri and Kansas are eligible for the college's Reserved Admission Program.
Acceptance Rate: 12.8%
Average GPA: 3.7/4.0
DAT Academic Average: 20
2. Eastern Carolina University School of Dental Medicine (Greenville, NC)
The Eastern Carolina University School of Dental Medicine is one of the newer programs on this list, having opened its doors in 2011 to help address the need for rural dental professionals in North Carolina.
Eastern Carolina University's DMD can easily be enhanced with additional years of advanced dental study and general practice residencies. ECU, like some of the other dental schools we've listed so far, uses the AADSAS application system. Candidates who are considered for acceptance will be invited to interview with the college's admissions committee.
The college's main campus is in the coastal city of Greenville, but clinical experience for 4th-year students takes place across 8 different locations from small towns to the mountains.
ECU has received recent awards from ADEA and Apple, making it a very promising school of dentistry. However, due to the school's mission, they only accept North Carolina residents.
Acceptance Rate: 14.7%
Average GPA: 3.47/4.0
DAT Academic Average: 20
1. University of Mississippi School of Dentistry (Oxford, MS)
Coming in as one of the easiest dental schools to get into, this college has the highest dental school acceptance rate of the colleges included in this article. One reason for the college's high acceptance rate is the program is the only dental program of any kind within the state of Mississippi and part of a large hospital system that generates 2% of the state's yearly economy.
The dental program offered by UM is dedicated to providing an education to those who are from underserved communities and providing quality dental care to those who live in Mississippi. The college offers a DMD degree program plus 4 specialized residencies, including a specific dental oncology program. The estimated cost of attending UM is approximately $70k per year.
As with most dental programs, UM does not require candidates to have taken a specific undergrad major, but you must meet their list of prerequisites. UM does accept applications from out-of-state students, but it is worth noting that in recent years no non-resident candidates have been accepted into the school's program.
Acceptance Rate: 20.73%
Average GPA: 3.7/4.0
DAT Academic Average: 20
Pre-Dental / Dentistry Internships Abroad
Each school featured on this list requires you to be at the top of your academic game and submit a strong, competitive application. To stand the best chances of impressing the admissions committee and getting into a DMD program, you will need to focus on your volunteering and shadowing experiences. This is where we at IMA come in. We offer aspiring dental professionals with a variety of pre-dental internships abroad.
These internships provide students with a wealth of hands-on real-life clinical experience in locations such as East Africa, the Caribbean, and South America.
For more information about dental schools, check out our helpful articles about DMD vs DDS and how to become a dentist. If you feel that you need a little extra guidance navigating which dental school is right for you and understanding dental school acceptance rates, contact IMA about our medical school admissions consulting services.